Each day, hundreds of Marion County businesses use, store, manufacture or transport hazardous materials or waste in and through the country. The Marion County Public Health Department (MCPHD)'s Emergency Response Team is ready 24/7 to respond to releases and spills of hazardous materials incidents, staff responds to citizens' complaints regarding the misuse, mishandling or improper disposal of hazardous substances. Staff also works with federal, state and local authorities, including fire and police departments, to respond to incidents involving chemical, biological and radiological threats.
Regulations
Marion County Ordinance– The Code, Chapter 20
Indiana Spill Rule – 327 IAC 6.1
Safe Handling of Hazardous Materials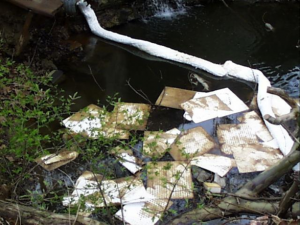 Chemicals are everywhere- in businesses, on roads, in underground pipeline and more. Unfortunately, some chemicals pose health and safety hazards. To protect not only workers but also the community, it is important that businesses both large and small exercise caution when making, using, transporting or storing hazardous materials. Business should have safety rules in place and communicate these rules to their employees so they can understand and comply. To assist businesses, especially smaller companies, the Local Emergency Planning Commission has developed a Marion County Hazardous Materials Guidebook outlining best management practices for chemical workplaces. Click here to see the Marion County Hazardous Materials Guidebook.
Chemicals in Our Community Video 
Links
It Takes Chemicals to Make Stuff
Las Sustancias Quimicas Que Estan Cualquier Producto
OSHA's Small Business Handbook (includes self- inspection checklists regarding hazardous materials and hazardous materials communication, HAZCOM)
US Department of Transportation – Pipeline and Hazardous Materials Safety Administration
Emergency Planning/ Community Right – To – Know (EPCRA)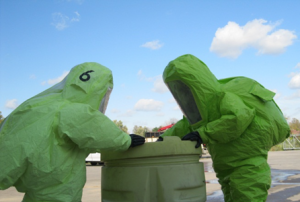 MCPHD is a member of the Marion County Local Emergency Planning Commission (LEPC). The LEPC is charges with developing Marion County's emergency response plan to deal with accidental chemical releases from SARA Title III facilities and with making available to the general public chemical information submitted by those facilities.
All information filed by covered SARA Title III facilities in Marion County may be reviewed during regular business hours at the office of the Department of Water Quality and Hazardous Materials Management of  the Marion County Public Health Department. Copies of documents may be obtained at the office. The Marion County Public Health Department may charge a fee for copying. For information about a facility and their hazardous materials inventory, please call 317-221-2266.
The LEPC meets on the first Monday of the even numbered month (February, April, June, etc.) at 3:30 p.m. in the basement floor conference room of the Marion County Public Health Department at 3901 Meadows Drive, Indianapolis, Ind. LEPC meetings are open to the public.
For more information on the Emergency Planning and Community Right-to-Know Act, including the chemicals that must be reported, click here.
Your Role During Chemical Emergencies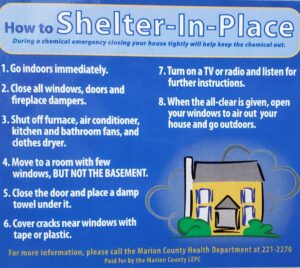 Chemical businesses in Marion County have very good safety records, but that does not mean an incident involving a chemical release can never occur. Everyone, especially those who live neat railroads, interstates, or companies that make, use, or store hazardous materials should know what to do if you or your family is alerted that a chemical incident has occurred. After you receive information about the hazard and affected areas, you will be informed to take one of two protective actions: evacuate or shelter-in-place.
For more information about what to do during a chemical emergency, check out these online resources:
You Have a Role to Play in Protecting Yourself During Chemical Emergencies
Usted Tiene una Funcion que Cumplir Para Protegerse a Si Mismo Durante Ias Emergencias Causadas Por Sustancias Quimicas
Shelter-in-Place and Evacuation During a Hazardous Materials Incident Video 
Household Hazardous Materials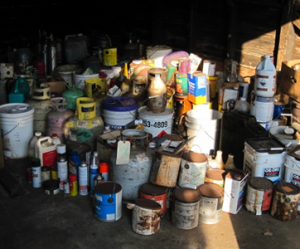 Chemicals are in integral part of our lives. We use many household chemical products in and around our homes and garages every day. These products may include cleaning liquids and powders, polishes, drain cleaners, paint thinners and windshield washer fluids. These types of products can be dangerous and cause burns, fires, poisonings and explosions.
"As a result, not all hazardous materials threats come from outside our homes. Household chemical products are among the top products responsible for injuries and deaths in young children. Even a small amount of chemical product can be harmful to a child. Just like businesses, citizens of Marion County must be careful when using and storing hazardous materials at home. To ensure safe storage and use of household chemical products, follow these instructions:
Read the label before you buy or use a household chemical product.
Do not cover up or remove the labels from household chemical products.
Follow all directions on the label every time you use a household chemical.
Store all household chemical products in their original containers. Keep all safety information.
Keep all household chemical products locked away, where children cannot see or reach them.
try not to store products that may release  harmful vapors or catch fire inside your home. These items include paints, solvents, gasoline, fuels or varnishes.
Use household chemical products carefully, especially around children.
Never mix household chemical products together. Some mixtures can produce harmful gases.
Post emergency phone numbers by your telephone and/ or program the number into your phone.
If someone has been in contact with a chemical product and you think they may have been harmed.
Call the Indiana Poison Center at 1-800-222-1222.
Tell the person who answers the phone what the product label says. There should also be first aid instructions on the back or side of the product.
Bring the product with you when you go for help.
When it is time to get rid of unwanted and unused household chemicals, such as antifreeze, brake fluid, batteries, drain cleaners, fluorescent light bulbs, glue and adhesives, paint thinner, pesticides, pool chemicals, household thermometers, toilet bowl cleaners, used motor oil and gasoline, it is important both for you and your family's safety and for the environment that you dispose of leftover household chemical products safely.
A good practice is to buy only the amount you need for the job so there is no waste. But, if you have household chemicals to dispose of, the City of Indianapolis operates a Tox Drop program for the citizens of Marion County to properly dispose of unwanted and unused household hazardous waste (HHW). Remember, you should never burn household chemical containers or inappropriately re-use empty containers. In addition, you should not pour the contents, including medications and pharmaceuticals, down the drain. Though the Tox Drop program does not take pharmaceuticals, there are collection sites in Marion County that do accept unwanted or expired medications.
Links
Indianapolis Tox Drop Program – free collection of certain household hazardous wastes
Expired Medication Take Back Locations 
Inquitudes de Salud Relacionadas con las Pesticidas
Additional Resources Related to Hazardous Materials
IDEM Compliance and Technical Assistance Program
Indiana Methamphetamine Investigate System
Indiana State Police Meth Suppression Section
Indiana Traffic Incident Management Effort
Indiana Occupational Health and Safety Administration (IOSHA)
DHS Ready.Gov – Hazardous Materials Incidents
Questions and complaints can be directed to:
Department of Water Quality & Hazardous Materials Management
3901 Meadows Dr., 2nd floor, Indianapolis, IN 46205
Phone: 317.221.2266
[/vc_column_text][/vc_column]
[/vc_row]