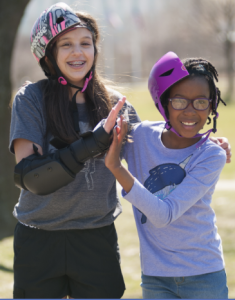 Is your child only half protected?  You wouldn't half-protect your child at the park, on the water or even on the soccer field, but most of Marion County's adolescents are not fully protected from HPV-related cancers!  For HPV vaccine to work best, 2 doses  should be given, spaced 6 months apart. It is important to return for that 2nd dose otherwise, your child is left vulnerable to the many HPV-related cancers the vaccine could have protected against. Don't half protect your child! Call 317-221-2122 today to make sure your child is up-to-date!
What is HPV?
HPV, short for human papillomavirus, is very common – about 79 million people in the United States are currently infected with HPV. Many HPV infections go away, but sometimes HPV infection can cause cancer.
Each year in the United States, approximately 31,000 men and women get cancer caused by HPV infection. That's a new case diagnosed EVERY 20 MINUTES! The most common HPV-related cancer in women is cervical cancer while the most common in men is cancer of the throat, tongue, and tonsils. The vast majority of these cancers can be prevented in the future by vaccinating our tweens and teens NOW!
Who should get HPV vaccine?
Both boys and girls should start the HPV vaccine series when they are 11 to 12 years old for two  reasons: to prevent the disease before they are even exposed and because studies have shown that HPV vaccine produces a higher immune response in preteens than in older adolescents. However, the vaccine is recommended for males and females up to age 26.
How many shots do I need?
If you receive the first dose of HPV vaccine before your 15th birthday, you will only need a total of 2 doses (spaced 6 months apart).
If you receive the first does of HPV vaccine after your 15th birthday OR if you have received 2 doses at any age and they were less than 5 months apart, you will need to have a total of 3 doses to be fully protected.
Also, three doses are still recommended for people with certain immunocompromising conditions regardless of age at first dose.
If you began your HPV vaccine series, but forgot to finish, it's not too late! Even if it has been a long time since you got the first dose of HPV vaccine, you don't have to start over – just get the remaining shot(s) as soon as possible.
How well does HPV vaccine work?
HPV vaccines work extremely well. Clinical trials showed HPV vaccines provide close to 100% protection against cervical pre cancers and genital warts. Since the first HPV vaccine was recommended in 2006, there has been a 64% reduction in vaccine-type HPV infections among teen girls in the United States. Studies have shown that fewer teens are getting genital warts and cervical pre cancers are decreasing. In other countries, such as Australia, where HPV vaccination coverage is higher than in the Unites States, large decreases have been observed in these HPV-associated outcomes. HPV vaccine offer long-lasting protection against HPV infection and HPV disease. There has been no evidence to suggest that HPV vaccine loses any ability to provide protection over time. Data are available for about 10 years of follow-up after vaccination.
Like all vaccines, HPV vaccine is monitored on an ongoing basis to make sure it remains safe and effective. If it turn out that protection from HPV vaccine is not long-lasting, then the Advisory Committee on Immunization Practices would review data and determine whether a booster dose would be recommended.
Why is this vaccine not mandatory for school entry?
Each state determines which vaccines are required for school entry. Many factors are taken into consideration before requiring any vaccine for school entry, including: community support for the requirement, financial resources needed to implement the requirement, burden on school personnel for enforcing the requirement, vaccine supply, and current vaccination coverage levels.
Since almost every state requires Tdap(tetanus, diphtheria, and acellular pertussis vaccine) for middle school entry, parents can use this visit to the doctor to get the first HPV and quadrivalent meningococcal conjugate vaccines for their preteen at the same time.
What do the experts have to say?
Mayo Clinic:
"The HPV vaccine is one of the bright spots in our work to prevent cancer," says Robert Diasio. M.D., director of the Mayo Clinic Center. "Unfortunately, it is a tool that is being grossly underutilized, and we need to get the word out that this is an opportunity to save lives".
Mayo Clinic Cancer Center Endorses HPV Vaccination to Prevent Cancer
---
Harvard Medical School:
Past studies have demonstrated that the HPV vaccine is highly effective, with protection rates of 97% or higher for the strains covered. And it's estimated that with the widespread vaccination, more than 90% of the 31,000 HPV-related cases of cancer that occur each year in women and men could be prevented. Studies have already shown a drop in a precancerous abnormalities in the Pap smears of women in recent years, as well a reduction in genital warts among young adults.
Good News about the HPV vaccine
---
NCBI, National Library of Medicine, National Institute of Health:
Change in Human Papillomavirus Prevalence Among U.S. Women Aged 18-59 Years, 2009-2014.
CONCLUSIONS: The decline in HPV infections among un-vaccinated 18- to 26-year-old women suggests that young women in the United States are beginning to benefit from herd immunity resulting from the introduction of the HPV vaccine.
https://www.ncbi.nlm.nih.gov/pubmed/28885413