A new report the Marion County Public Health Department takes a closer look at the issue of health inequities in Marion County. The State of Health in Marion County: Health Equity 2018 provides an overview of how some residents face a greater burden of negative health outcomes.
This report also gives a historical view of health inequities and examines the current population statistics for Marion County. Along with the upcoming 2018 Community Health Assessment, it was developed for residents, policymakers, community organizations, and anyone interested in working toward a more equitable Marion County.
Three of the top findings include:
Non-Hispanic Black residents appear to be burdened by the highest level of health inequity when compared to other racial/ethnic groups.
Non- Hispanic White residents had worse mental health and substance use outcomes than Non-Hispanic Black and Hispanic residents.
Where you live affects your life expectancy. In different Marion County zip codes, life expectancy ranges from a low of 70 years to a high of 86 years.
"Monitoring and communicating the status of health equity in Marion County is an essential service which will hopefully help all sectors of the community to strengthen health equity policies, procedures, and best practices,"said Virginia A. Caine, director of the Marion County Public Health Department.
Future versions of the report will build on the health indicators addressed in the 2018 report in order to measure any changes in these inequities, highlight relevant inequities over time, and feature organizations that promote health equity within Marion County.
This report is intended to bring attention to the issue of health equity and outline strategies for addressing inequities in Marion County.
To access a full version of The State of Health Equity in Marion County: Health Equity 2018, please click on the image below: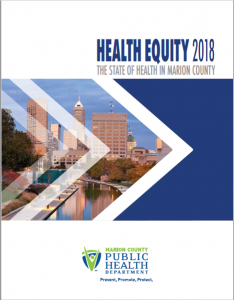 To view other reports from Marion County Public Health Department's Epidemiology Department, click on the link below: