A Municipal Separate Storm Sewer System (MS4) is a system of storm water conveyances (storm drains, ditches, outfalls, etc.) that is regulated under the National Pollution Discharge Elimination System (NPDES). Permits are required to discharge storm water from the MS4 into surface waters and are issued by the Indiana Department of Environmental Management. The City of Indianapolis' NPDES permit prevents pollution into storm drains and protects rivers and streams. Through a partnership with the Marion County Public Health Department, the City of Indianapolis conducts river sampling, business inspections, and investigations of illicit discharges.
Illicit Discharges 
Typically, the only things allowed to enter storm drains are rainwater, snow/ice melt, lawn watering, and sump pumps discharging rainwater or groundwater; anything else is considered an illicit discharge. Contact MCPHD at (317) 221-2266 to report:
illicit discharges to surface water
unusual flow out of stormwater outfalls or pipes (particularly in dry weather)
illegal dumping into storm drains
water flowing in storm drains or outfalls that is discolored or have an unusual odor
It is imperative that illicit discharges into the City's drainage system be detected, reported, and corrected as early as possible to minimize harm to the environment.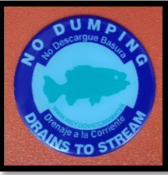 If you would like a storm drain marked with a placard stating "No Dumping. Drains to Stream." contact MCPHD at (317) 221-2266.
Additional  Resources 
City of Indianapolis Stormwater Home Page