Only licensed shops are routinely inspected for compliance with health and safety regulations.  Tattoo parties, mobile tattooing, and unlicensed tattooing from homes are prohibited. Contact our department for more information about a specific shop, including license status and inspection history. Please note that only the shops are licensed – there is no license or certification required for the artists in Marion County.
MCPHD Brochure – What You Need To Know Before You Go: Body Modification
Patron's Rights Poster (Spanish)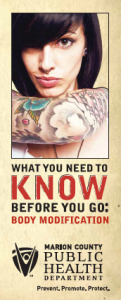 Regulations 
Marion County Ordinance – The Code, Chapter 17
Indiana State Rule – 410 IAC 1-5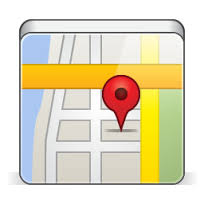 Map of currently licensed shops
Additional Resources
Centers for Disease Control: http://www.cdc.gov/nceh/ehs/Topics/BodyArt.htm
Federal Drug Administration: http://www.fda.gov/cosmetics/productsingredients/products/ucm107327.htm
Association for Professional Piercers (APP): http://www.safepiercing.org/
Body piercing info, healing times: http://youngwomenshealth.org/2013/08/07/body-piercing/
To file a complaint or get more information about a specific shop, call 317.221.2266.