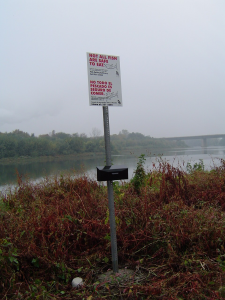 The Marion County Public Health Department (MCPHD) monitors the water quality of rivers and streams throughout Marion County. Surface water is sampled and tested for a variety of bacteria, physical and chemical parameters. Warning signs are also posted in areas susceptible to pollution. Staff responds to complaints regarding non-permitted surface water discharges, sanitary sewer overflows, and other public health threats related to environmental health. 
Description of MCPHD Monitoring Programs
Ambient Sampling
MCPHD's ambient sampling program monitors 34 sites five times per month for E.coli bacteria and water quality parameters such as pH, temperature, dissolved oxygen, specific conductivity, and total dissolved solids. On a quarterly basis, samples are also collected for these chemical parameters: Metals, ammonia, NO2, NO3, chloride, sulfate, hardness, and volatile organic compounds. Most of these sites are located near combined sewer overflows that can discharge untreated sewage directly into the streams during rain events.
Water Quality Parameters Fact Sheet
Public Access Sampling
MCPHD also collects monthly grab samples for E. coli from major waterways in the county during the recreational season (April through Oct.). The purpose of the sampling is to warn people of potentially elevated E. coli levels in areas frequented for recreation. Such places are in or near parks, greenways, canoe launches, schools, and fishing areas. Warning signs are posted where E.coli levels exceed the 235 cfu/100ml State Water Quality Standard. Approximately 60 sites are sampled during the season (often incorporated in the ambient projects) and about 80 signs are posted in the community.
Herbicide Sampling
In 1995, MCPHD implemented an herbicide monitoring program to evaluate the level of herbicides in source water. Sites are sampled from April through October at various locations upstream of drinking water intakes. Analysis include: Herbicides, metals, NO2, NO3, ammonia, chloride, sulfate, hardness, pH, temperature, dissolved oxygen, specific conductivity, and total dissolved solids.
Macroinvertebrate Sampling
In 1998, MCPHD began an annual collection of benthic macroinvertebrates from streams throughout the county. Benthic macroinvertebrates are animals lacking backbones (invertebrate), which can be seen with the naked eye (macro), and lived part of their lives on or in the bottom (benthos) of a body of water. Macroinvertebrate collection and assessment are used as an indicator of overall stream health.
Map of Historic Sampling Sites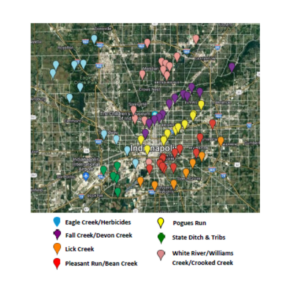 Water Sampling Results for Current and Historic Sites by Watershed – updated annually 
Macroinvertebrate Sampling Results by Watershed – updated annually
Macroinvertebrate Sampling Fact Sheet  -Explanation of metrics used in assessment and Bug Key
Annual Macroinvertebrate Reports 
Annual Watershed Reports
1973 Stream Survey of Pogue's Run
The first comprehensive stream survey conducted by the Marion County Public Health Department took place in 1973. Pogue's Run was identified as the most impacted stream in the county. Impacts included dry weather sanitary sewer overflows, industrial discharges and runoff from contaminated sites. In 1973, the Federal Water Quality Act and the National Pollution Discharge Elimination System (NPDES) were in their infancy. Prior to this survey, grab samples were taken periodically of streams and industrial discharges, however the bulk of sampling was completed at the several small wastewater treatment plants throughout the county that MCPHD previously licensed and inspected. MCPHD company owned vehicles were not commonly used in 1973 and employees would pile their personal vehicles with coolers, preservation chemicals, meters and test kits to conduct sample projects.
The conclusion of this survey included a prophetic paragraph: "Our recommendations are that future studies of this type should be arranged in such a way that all streams in Marion County will be monitored and sampled regularly. In order to determine the pollution index of a stream and isolate polluters, we feel that there should be a planned and systematic method utilized. In order to do this we feel that a separate division should be set up devoted entirely to water quality."
Fact Sheets
Foam in Surface Water Fact Sheet
                       Fish Kills in Ponds Fact Sheet
Fats, Oils, & Grease in Our Sewers
A Guide to Insecticide, Herbicide, & Fertilizer Use
Additional Resources
Dirty Dozen Hunting and Fishing Club
Indiana Water Monitoring Inventory
United States Geological Survey Stream Flow Data
Natural Resources Conservation Service
Ravenswood Area Operational Flood Plan
Marion County Soil & Water Conservation District
Indiana Water Monitoring Council
Indiana Water Resource Association
Questions and complaints can be directed to:
Department of Water Quality & Hazardous Materials Management
3901 Meadows Dr., 2nd floor, Indianapolis, IN 46205
Phone: 317.221.2147